ÓÊ޲ٔłð•\Ž¦'µ'Ä'¢'Ü'·¡PC"Å'Í'±'¿'ç
---
What is this thing called dengaku man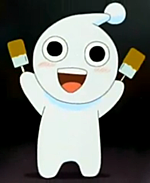 œŠg'å'·'é
---
œŽ¿–âŽÒ: Snackfood
œ¶ÃºÞØ:—·s¥'nˆæî•ñ ¶Šˆ
› ó'Ô :I—¹
"¤ ‰ñ"š" : 1/1Œ
---
¤ÅV'̉ñ"š'Ö
---
¤1 œ 'È'Û'è'ñ


see:
http://dic.pixiv.net/a/%E7%94%B0%E6%A5%BD%E3%83%9E%E3%83%B3
he is a character from japanese cartoon comic [bobobo-bo bo-bobo].

dengaku is japanese traditional snack or an hors d'oeuvre made of glucomannan gelly and bean paste. winter seazon food like oden(indeed oden is stand for dengaku, but now oden is independentry deveroped into soup style like pot]au]feu)
it is square cut, served with wooden stick like ice bar and miso (bean paste) sause on it.
---
œŽ¿–â'ð'à'Á'Æ'T'·œ
---
---
0.l—ÍŒŸõ'Í'Ä'ÈįÌß
8.'±'ÌÍß°¼Þ'ð—F'B'ɏЉî
9.'±'ÌÍß°¼Þ'̐擪'Ö
 'Ήž‹@Žíˆê——
 '¨–â'¢‡'킹
 ÍÙÌß/'¨'m'点
 Û¸Þ²Ý
 –³—¿Õ°»Þ°"o˜^
 'Í'Ä'ÈįÌß

---